Yesterday we had the opporunity to meet and kick it with DJ clark Kent.
Clark Kent is a hip hop DJ, record producer and music executive of Panamanian descent. His crew of DJs is called "The Supermen", and his DJ moniker is derived from the name of Superman's alter ego.
In the mid 1980s, Clark Kent was rapper Dana Dane's DJ.
As a producer, Clark scored his first street hit with the Junior M.A.F.I.A. song "Player's Anthem" which featured The Notorious B.I.G. and was also the first record that Lil' Kim appeared on. The biggest hit he produced was "Loverboy" by Mariah Carey, which peaked at #2 in the US on Billboard's Hot 100 chart. He also produced tracks for artists such as 50 Cent, Lil' Kim, the Notorious B.I.G., Canibus, Lil' Vicious, Mona Lisa, Slick Rick and Rakim as well as groups such as The Future Sound and Original Flavor, both of which were signed to East West Records and Atlantic Records respectively, both groups having been signed by Clark who was a director of A&R at Atlantic at the time.
Original Flavor, on their single "Can I Get Open", featured a guest appearance by a then little known rapper named Jay-Z. This would lead to further collaborations between the two, as Franklin would go on to produce three tracks on Jay-Z's critically acclaimed debut album, Reasonable Doubt. The tracks were: "Brooklyn's Finest", which featured Notorious B.I.G., "Coming of Age" and "Cashmere Thoughts." On his (then) retirement album The Black Album, Jay-Z alludes to Clark Kent's role in helping him break into the industry, in the last song on the album (ironically titled "My 1st Song"). He states: "Clark Kent, that was good lookin' out, nigga."
Clark accidentally overheard the then unknown rapper Shyne rhyming in a barbershop, who, noting the young MC's vocal similarity to Notorious B.I.G., steered him towards Combs and Bad Boy.
He is also the cousin of recording artist Foxy Brown.
JR & Clark Kent
JR, Clark, Fe, & Cult
Discussing who's the best Mc's, Biggie, Jay-z, or Nas...lol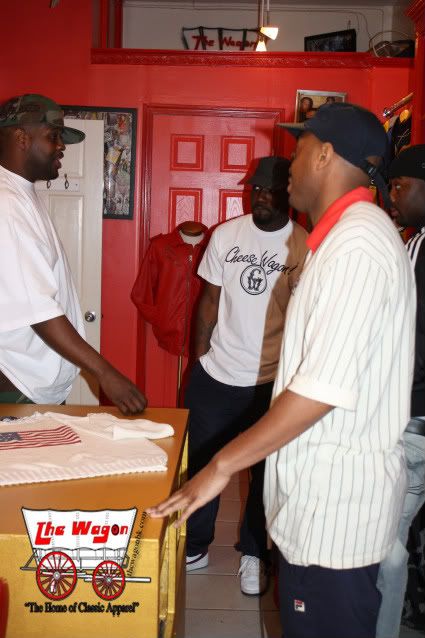 Clark and Quan from Blak Republic