As promised a couple months back we shared Fe Diddy's flyyyyy Essence Magazine back stage experience with you guys that was to be con't.. Now here is the official spread that you can catch in the August 2009 Issue with Idris Elba on the cover. The purpose of the shoot was to find each individuals perfect denim fit. "After hours of trying on jeans , eating, and a couple of drinks (lol) each girl found their desired look 6 different girls with very different body shapes... As for me anyone that knows me knows I have an obsession with my butt area (lol), so of course my perfect fit was Joe's Denim." Whats your perfect fit?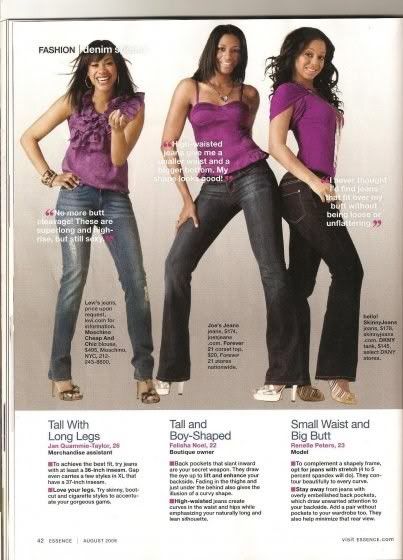 " I had a great time working with essence , the best part is all the other YBF's(young, black, fabolous) women that I met, and i'm happy I can share the experience with you guys"
Down at The Wagon we can also help you find your perfect Denim FIt....